Registered Master Builders & Licensed Building Practitioners covering the Wellington region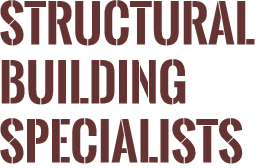 I am more than impressed by the two retaining walls built by Brent and his team at Structural Building Specialists. They moved a lot of material from a difficult site and sometimes in not so great weather. His team worked hard to keep to the timeline, even staying late one night when concrete was delayed. I was always kept in the loop on progress. They did a great job cleaning up after they had finished and the end results are fantastic.
Dennis, Maungaraki
​
Brent and his team did an excellent job building a new retaining wall and then hard landscaping for us on a difficult hillside site. When on the job he came up with good ideas to do the job better and communicated well. He was flexible with the changes we requested and fair in pricing the variations. He found ways to reduce the costs, including doing some of the design. He managed the engineer and his sub-contractors well. We're very happy with the final results.
Paul & Felicity, Oriental Bay
​
We've really appreciated Brent's attention to detail, and the skill and hard work of your team. We trust that this retaining wall will last well beyond our years no matter what nature throws at it. It has been good to work with you and your team, and will keep you in mind for any future tasks we may require assistance with.
Colin, Newlands
The house looks fantastic. I am so incredibly relieved and very pleased. I have to thank you and Brent so much!!! From stepping me through the contract, filling in insurance forms, discussing every decision of the build, consistent progress updates and high attention to detail of the project, my anxieties have been soothed at a very challenging time. Even though I am a very small client on your books, I never felt insignificant. I keep calling you and Brent angels as you have well and truly outshone my expectations. Thank you for taking care of me and my house.
Amanda, Paekakariki
​
Thanks for all your help with our bathroom – it looks great and we are really pleased. The team were great and worked hard to meet our tight timeframe – not only did you get the job done, but it was done well and with some good creative solutions when we needed it! Lots of learning for our next projects too.
Faasalele, Brooklyn
​
The team from Structural Building Specialists have undertaken significant work at our property in recent times, "significant" both in terms of the scale of the work and also in terms of its importance to us. All work has been performed to a high standard, and we are very pleased with it. However that is only part of the story: we have come to see Structural Building Specialists as more than just a provider of structural building services: Brent has always been ready to discuss options and alternative ways of achieving our desired objectives, and we have never regretted taking his advice about such things: in a real sense, Structural Building Specialists has been a "problem solver" for us too.

Further, the approach that Structural Building Specialists brings to its work is in our experience much more professional than most: communication in particular is a real strength, and one is always kept fully informed about what will happen, when it will, and when it has. Would I use Structural Building Specialists again? Undoubtedly, and indeed at the time of writing this I am already doing so!
Rob, Lower Hutt
​
My thanks to Brent and his team. They have done a brilliant job and I am so thrilled to have such a fantastic new bathroom. All the people involved in this project were so pleasant and courteous and we appreciate everything they have done.
Gillian, Paraparaumu
​
Brent and his team completed a very difficult and demanding job for us last year. It was the strengthening of a collapsing retaining wall along a stream bed and proved to be a job with plenty of complications. The overall job was done to a very high standard, the health and safety aspect of the job was taken very seriously, and the guys were all very friendly and considerate. What impressed us most of all was the level of communication which was outstanding…we were always kept up to date in a very honest and professional manner and we were even informed if the guys were running late ! Something that in our experience of the building industry is very rare. We couldn't recommend them more highly and wish them all the very best in the future.
Kate and Peter, Khandallah
​
We were introduced to Brent Mackay in early 2011, by our engineer, to assist in resolving issues relating to a poorly built house. We were impressed with the on time and practical rectifications Brent provided, ensuring all aspects of the work was communicated fully to us. Communication is particularly important as we reside in Australia. We have subsequently engaged Brent on 2 major renovation projects and several small remedial projects on properties we own. We appreciate Brent's honest and reliable manner and have full confidence in his work.
Lynda and Glenn, Brisbane
​